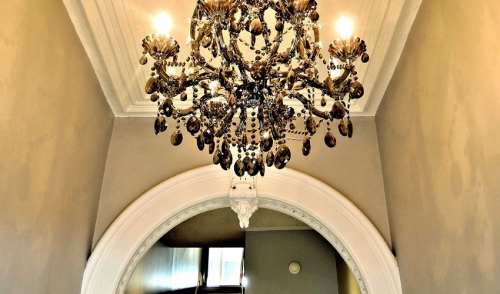 In life, first impressions are important. For your home, the entryway offers a first impression for your visitors. No matter the layout or size of your entryway, it should set a warm and inviting mood for your guests as soon as they walk to your front door. This doesn't mean there's no room for practicality and function, though. Below we'll discuss some ways to make the most of your entryway:
Trick out your door
Thought the only thing you could do with that old door was paint it or replace it? Not so. There are many options available today for making your old door look its best. You can install a new lockset with a backplate, for starters. There are handlesets available that come with backplates and matching screws that can add a touch of class to that old door. Remember mail slots? Even if you take your mail at the curb, an attractive brass mail slot adds a nice visual touch to your door. Since you've gone that far, why not finish it off with a shiny brass or chrome kick plate? They're not difficult to install and can add a lot of flare to your door. Besides, they're great at protecting your door from (or covering up) any damage.
First steps
Once your guests step inside, will they have a place to wipe their feet? Hang their coat? Will it be lit? An attractive area rug and a small table with a light are the basics for your entryway, but there is room to grow from there.
Your rug should be durable and capable of trapping dirt. Look for a rug that has a pattern which disguises stains and has a low pile that won't interfere with your door. Consider using carpet tape or a non-skid pad to keep it in place.
Sure, a small table would work, but why not a small dresser? If you have one that's not being used to its full effect, consider putting it in your entryway. You'll add extra storage for hats, gloves, etc., plus add a touch of elegance as well. If you don't have one, keep an eye out at garage sales and second-hand shops for a likely candidate. A little refinishing and you'll have an attractive and unique addition to your entryway.
Tired of unlocking your door and stepping into a dark entryway? Plug your lamp into a timer and set it to light up at dusk. Use energy efficient CFM bulbs and you'll always be greeted by a warmly lit home.
For entryway seating, it's simple: A chair is good. A bench is better. A storage bench is best!
If you don't have a closet, installing coat hooks on an available wall is a good idea. If you don't have room for hooks, a coat tree can be a lifesaver.
Your entryway is like your family's way-station. Every day brings many people with numerous goals heading out and returning from several locations. That's a lot to ask from a small space. For it to perform successfully, your choices should be multi-functional and low-maintenance. If you choose wisely, not only will you make a good first impression, but a lasting one as your guests leave your way-station for theirs.