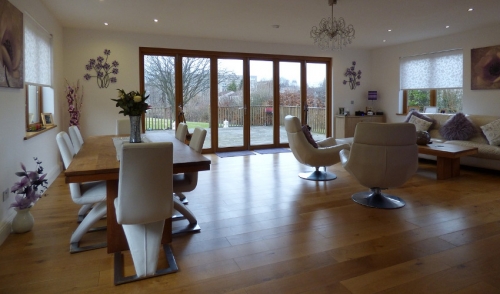 According to the US Energy Information Administration (EIA), residential lighting consumption for 2014 was about 150 billion KWh, or roughly 14% of total residential electricity consumption. That's still kind of high when you think about it -- even with the advent of CFL bulbs and LED's. Of course, results vary with lifestyles. If you've done all that you can to save on your electric bill; you've used CFL bulbs and/or LEDs and make every effort to keep the lights off when not in use— there's still more that you can do. Consider allowing more natural light into your home. This is a concept known as daylighting. It means using natural sunlight to brighten and warm your home's interior. To make it more effective, look for rooms where you can make the greatest use of the natural light and reduce your dependency on electricity. This could mean widening your existing windows or installing skylights to let the sun's natural light fill your home. Tunnel lights are another excellent daylighting option. Tunnel lights (also known as tubular skylights), will channel the sun's light from outside, into the parts of your house where normal skylights could not reach. This way, hallways, closets, stairways, bathrooms and more can be lit by the sun, rather than burning up more electricity.
Below, we have a few more tips that can help bring more natural sunlight into your home:
Take a second look at your choices for window treatments. Are they letting in as much natural light as possible? You'll have to weigh your desire for privacy with your desire for natural light in this situation.
Brighter interior walls can reflect a lot of natural light around the room. If your walls are dark, consider lighter paint choices to brighten things up and spread the light.
Mirrors not only make a room look larger, but they will reflect light as well. A few strategically placed mirrors can make a huge difference.
Take a look at your landscaping. Over time, trees and shrubs have a way of surrounding your home. By keeping them trimmed back and letting more sunlight in, you will warm and brighten things up. Also, you will protect your home's exterior from other issues due to overcrowding of vegetation.
How about a sunroom? These make a warm and cozy addition to any home. The sun's natural light will not only brighten things up, but it will warm things up as well. The savings on your heating bill and the increase of your home's curb appeal are a nice little bonus.
Take stock of your home's exterior doors. If there is a door that can comfortably be replaced with a glass alternative, this is another opportunity to let more bright light into your home. Nowadays, there are plenty of glass doors that are just as secure as solid ones. It's like adding a new window without all of the fuss.
Many of today's latest innovations can turn most of these projects something that can be accomplished in a weekend. If you're ready to install skylights, tubular lights, widen and/ or install a window or glass door, stop in and we will be glad to discuss the latest products and techniques to help you get the job done.